Activating and Using Zoom Video Conferencing
All active UNT employees are eligible to receive a Zoom One Business subscription, but you must activate your account before you will be able to use it. Activation is a quick and straight-forward process. Simply follow the steps below to activate and begin using your Zoom subscription.
Begin by going to the Zoom Portal and logging in with your EUID and password.
Congratulations: You have just activated your Zoom account.
Logging in to Zoom with your UNT ID (EUID)
The login process when using your UNT account for Zoom is slightly different than whne you login with a personal account. The screenshots below will walk you through the process.
How many participants can you have in your Zoom sessions?
Below is a screen shot of the features included with your subscription. There is not a limit on the duration of the your sessions: that is only when using a fee account.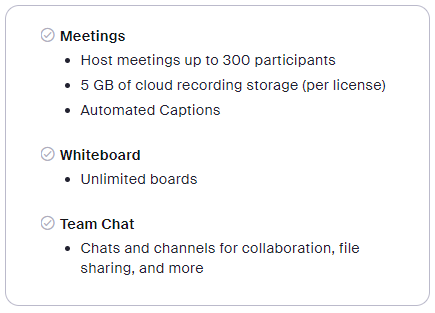 Tutorials and Useful Links: Zoom Video-Conferencing and Webinars
Zoom Tutorials
Zoom: Getting Started with Zoom Webinars
Zoom: Creating Zoom Invitations
UNT Tutorials
* If you are hosting a webinar: CVAD has a webinar account (up to 1000 attendees) that is available for you to use and we can provide a staff member or student employee to assist during the webinar. Contact our service desk to reserve the account: https://itservices.cvad.unt.edu
* Zoom recordings expire in 28 days and are deleted within Zoom: make sure you export them before they are gone if you need to keep them.