Guacamole: Instructions and Walkthrough
In order to access Guacamole, you will login to with your UNT Enterprise User ID (EUID) and will be prompted to confirm through multi-factor authentication (MFA) using the DUO application. To manage your account, including EUID password resets, you can go here: UNT Account Management System. To enroll a personal device for multi-factor authentication, or make changes to your settings, go can go here: UNT DUO Multi-Factor Authentication (MFA).
Logging in to Guacamole at UNT
Guacamole is an HTML 5 web application that allows users to make remote connections to MacOS computers using any current web browser: the computers are located on the UNT campus and are managed by UNT staff. You can connect and use a Mac from any device, regardless of the operating system. The interface is quite simple and intended to be as seamless and unobtrusive as possible. All of the software applications students need to complete their UNT courses are installed and updated regularly. If you would like to request a software application be added, please submit a ticket
To begin using Guacamole you will need to launch a web browser and navigate to the Guacamole portal.
In order to login to the service, you will need to accept the privacy notification:
This system is the property of the University of North Texas System and your use of this resource constitutes an agreement to abide by relevant federal and state laws and institutional policies. Unauthorized use of this system is prohibited. Violations can result in penalties and criminal prosecution. Usage may be subject to security testing and monitoring. Users have no expectation of privacy except as otherwise provided by applicable privacy laws.
After you accept the privacy agreement, by clicking on ACCEPT to the right of the agreement, you will see the Guacamole login prompt. You will need to login with your EUID and password.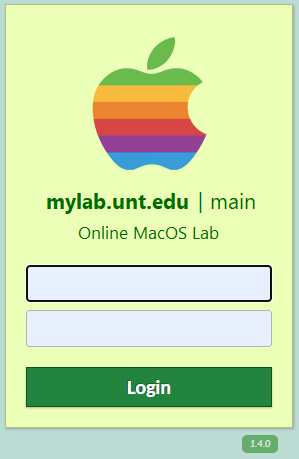 Next, you will be asked to select your method for Multi-Factor Authentication (MFA). You will need to launch the DUO app on the personal device you have enrolled in UNT Multi-Factor Authentication.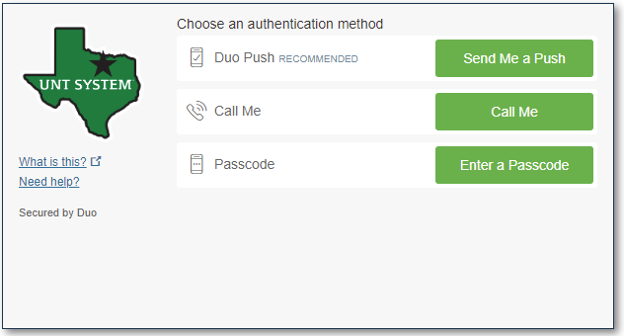 If you select Send Me a Push, you will see a screen popup in the application similar to the one below. Once you click APPROVE you will be logged into Guacamole.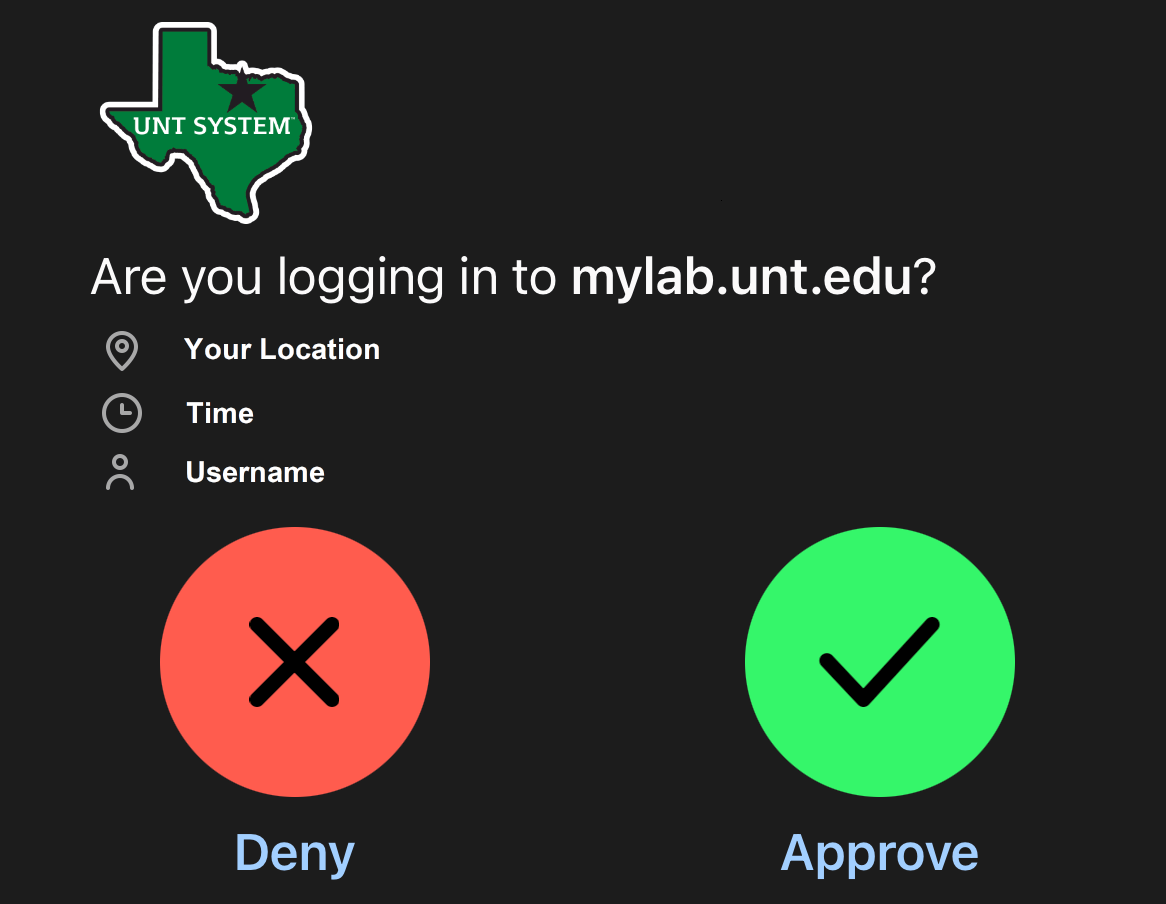 If you select Enter a Passcode, you will need to get the passcode from the DUO app on your personal device and enter it as shown below.
If you have been given a temporary bypass code, you would enter it here instead of a passcode from the DUO app.
Once you enter the passcode and click on Log In, you will be logged into Guacamole.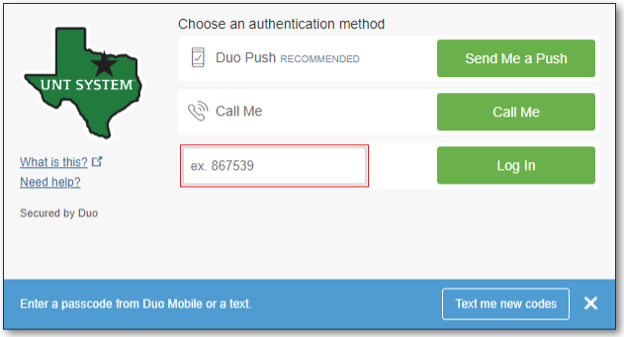 Navigating Guacamole
Guacamole provides access to much of the functionality of a desktop from within your web browser. Although most people use remote desktop tools only when absolutely necessary, we believe that Guacamole must be aimed at becoming a primary means of accessing desktops, and the interface is thus intended to be as seamless and unobtrusive as possible.
The Apache Guacamole website provides a pretty straight forward tutorial for using Guacammole.
Connecting to an Online Computer Lab
If you are an instructor or student, you will have access to the UNT Online Mac Computer Lab in Guacamole. Unless you have access to additional labs (college-level), upon logging in you will automatically be connected to a Mac endpoint.
If you have access to additional labs, upon logging in you will see the list of available labs on the Guacamole Home Screen: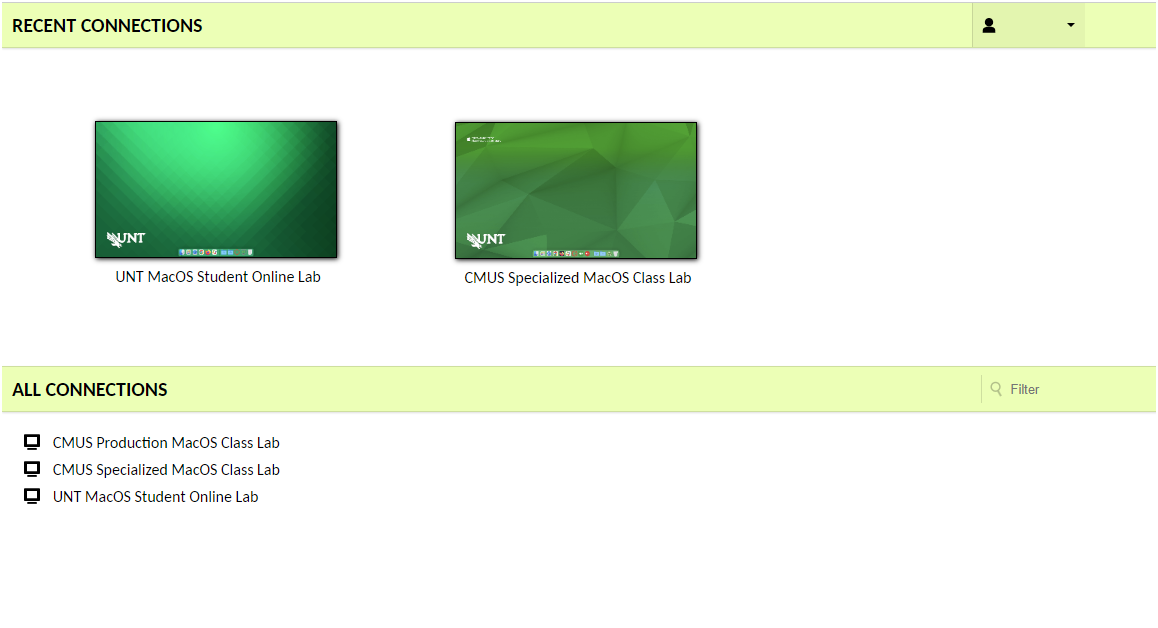 FAQ: Frequently Asked Questions
Below you will find answers to commonly asked questions. Most likely, you will be able to find the answers to any questions you may have. However, if you have a question that is not addressed you do not find an answer to your question, please contact us at UNT Guacamole Administrators. We appreciate any feedback we receive and will update our documentation and make changes to the service as appropriate.
When is the online computer lab available? Who is able to use the service?
The mylab.unt.edu service is able to provide access to multiple computer labs available on campus. The UNT MacOS Online Computer Lab, hosted by this service, is the primary Online MacOS computer lab for our campus. The lab officially opens on the first day of classes. Once classes begin each semester all actively enrolled students, faculty, adjuncts, and other instructional staff are granted access to use the service. Baring any unexpected issues, the lab will remain open, outside of scheduled maintence windows, 24/7 during the semester. This includes nights, weekends, and holidays. There are specialized labs, provided by the individual colleges and other units that are also hosted on this system. The access to those labs is managed by the hosting unit and may be available on a different schedule.
Do I need a Mac to use this online lab? Will I be able connect to a Mac from a computer running Windows, ChromeOS, or Linux?
You can connect using device that is capable of running a web browser: it does not have to be a Mac. If you connect to a Mac from a non-Apple device, you wil want to review the differences between the Mac and Windows keyboards. Here is a link to the Apple support website with some useful information.
I need to use Windows software: what are the remote access options for Windows?
If you need to use a Windows computer, the campus provides a virtualized Windows desktop solution: Citrix Workspace. You can find out more and access it from the mylab.unt.edu website as well. If you are a Mac user but want to run Windows software applications on a Mac: you can do that from the Mac computers hosted on this service. All of the Windows applications available on the Citrix Workspace service can be accessed from the Macs by using the Citrix Workspace for Mac application, which is installed on all of the computers.
Does access to this service require Multi-Factor Authentication (MFA)?
Yes. The instructions on this page covers how to login using MFA. UNT uses the Cisco DUO app for MFA. To get started and enroll or configure a device for MFA please visit the MFA page on the UNT System website.
Do I need to connect to the Campus VPN to connect to a Mac?
No. In fact, we suggest you do not connect to the campus VPN as it will hinder performance considerably when it is experiencing high utilzation. If you need to connect to the campus VPN to access another UNT resource, you may want to disconnect before using this service if the performance is impacted. If you are using this or any other campus service while physically on campus, you generally do not need to connect to campus VPN. The campus VPN service is only required to access some systems while off-campus.
Besides the UNT MacOS Online Computer Lab what other online computer labs are hosted on this system?
All students and instructors have access to the UNT MacOS Online Lab: most users will only see the UNT MacOS Online Lab as an available option in Guacamole. Some colleges and other units have specialized MacOS computer labs and classroom labs available but these have restrictions on who is able to access them: some are restricted to certain majors and others are restricted to students enrolled in certain courses. If your college has a specialized computer lab available or if you require access to a specialized class lab as part of a course you are taking, you would need to follow up with your college. Start by asking your instructor(s). You can go here to find the contact information for the local support group for your college. The College of Visual Arts and Design and the College of Music are the two colleges currently providing remote access to specialized MacOS computer labs at present but other units may add their labs at some point (Fall 2022).
What are the computer specifications of the MacOS computers in the UNT MacOS Online Lab?
The specialized college and departmental labs have varying specifications, depending on the use cases they are addressing. The technical specifications of the computers in the UNT MacOS Online Lab computers, available to all students, are given below: Apple Mac Mini Processor: M1; 8-Core CPU Memory: 16GB Unified RAM Storage: 512GB SSD Graphics: 8-Core GPU | 16-Core Neural Engine The Apple Mac mini now features Apple's first chip designed specifically for Mac. The Apple M1 integrates the CPU, GPU, Neural Engine, I/O, and more into a single system on a chip (SoC). All of this boosts the Mac mini to an entirely different level, as it features up to 3.5 times faster CPU performance, up to 6 times faster GPU performance, and up to 15 times faster machine learning. With its profound increase in performance and efficiency, M1 delivers the biggest leap ever for the Mac.
How do I install the Citrix Workspace app on my computer?
If you are using a university-managed computer, the Citrix Workspace application is available through Self Service (JAMF) on you Mac. If you do not see it as an available package, contact your local IT service desk - if you are nsure who to contact you can look up your units support group here. If you are installing Citrix Workspace on a personal device, you can download the latest application from the Citrix website. However, you do not need to have the client installed on your computer. As with Guacamole, you can access Citrix Workpsace from any device that is capable of running a web browser. You will need to provide the Citrix Store when installing the app. When prompted for a server or store URL: myuntlab.cloud.com If you would like to login using a web browser to the Citrix Workspace at mylab.unt.edu you do so directly by going here https://myuntlab.cloud.com
Need Additional Help?
If you have a question that was not addressed on this page, please feel free to email us at UNT Guacamole Administrators.
Happy Computing!